News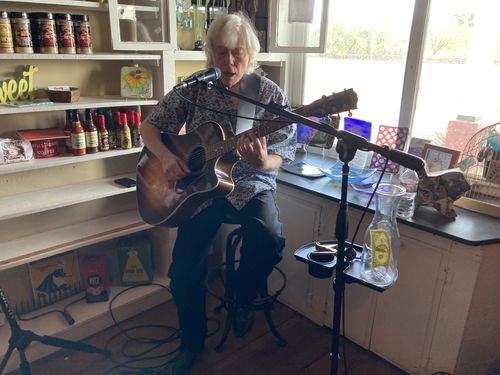 Fall is COming, and So are the Shows
If you believe the Austin weather people, then autumn weather is just around the corner. At least, it's what masquerades as autumn weather in early October - highs in the low 80s and high 70s with lows in the 6os. Our outside pets, the squirrels ChipandDale (we can't tell them apart so they are both named ChipandDale) are busily eating all the berries off of our Chinese Pistache. Surely this is some type of omen that Winter is coming.
On October 14th, I'll be playing during the Market Days on the Georgetown Square. I'll be there from 3pm to 4pm.
On December 2nd I be back at the swquare for the Christmas Stroll. I'll actually be just north of the Square on 6th and Main St ffrom 4pm-5pm.
The First Saturday in September
September is here, and if we weren't in Texas we could believe that Fall was right around the corner. It is, in a manner of speaking. It's just that the corner is a little bit farther away than it is somewhere like upstate New York.
I'll be streaming tonight if you've decided to stay in the cool of your home. We'll be celebrating the technical end of summer, and just having a good time. We'd love to have you join us at my Saturday Night Live Stream.
Saturday, August 19, 2023 - Live Streaming During the Heat Wave
We have a heat wave going on here in Central Texas, and it's hard to get motivated to go out when opening the front door is like opening the oven door. 
So, tonight I'll be live-streaming from an imaginary cool place. You can watch from your imaginary cool, comfortable place as well, (or from your hideout) and enjoy whatever you brought home from your last run from the store. I'll see you tonight at 7pm EDT, 8pm CDT, 9pm MDT, and 10pm PDT. For our fans in County Clare, Ireland, that'll be 2am on Sunday.
Stay cool, stay hydrated, and stay kind.
~ Brian
Saturday, July 30, 2023Art General Store
I had a fantastic time playing at the Art General Store on Saturday, July 29th. If you haven't been there, it is well worth the drive from the Austin/Round Rock/Georgetown area - or wherever you are coming from! The atmosphere is comfortable and friendly, just as if you have stopped in to visit friends and try their wines because that is exactly what you've become. Everyone is a friend by the time you leave. 
Randy and Katherine have their 100% Texas-grown Hill Country wines from the 1900 Vineyard for you to try. There is local art, jewelry, honey, and other crafts to purchase, and plenty of wonderful antique items to look at and enjoy. 
When the weather cools a bit (!) music will be on the porch so you can listen to the music and enjoy the beautiful outside.
I have more events coming up, so check back often. In the meantime, stay cool, and stay hydrated! 
~ Brian